These rabbits are currently available through New Mexico House Rabbit Society: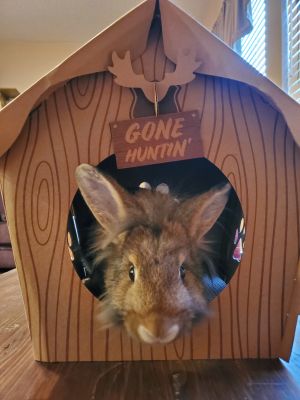 Bunny Rabbit, Lionhead
Spayed/Neutered
Thisbe (Thiz-bee) loves to chew on cardboard boxes and tear pages out of a phone book. She can be shy and nervous but settles down for snuggle time. Just like any young rabbit, she is active and will burn off her energy by running and jumping. If you sit down in the area she in running in, she will walk over to you for head pets.

Thisbe is part lionhead so she has some long hair around her head.

Interested in providing Thisbe a forever home? bit.ly/NMHRSadoptionapp
Young, Female, Medium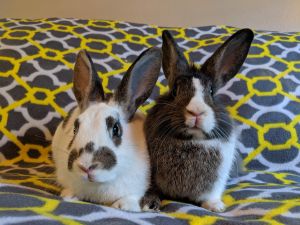 Bunny Rabbit
Spayed/Neutered
Calling all Drag Race fans! Our litter of bunnies that are named after drag queens wouldn't be complete without Trixie Mattel and Detox - two iconic queens/buns who came to slay.

Trixie (f) has some lionhead in her so she fluffs out in the hips and cheeks. Detox (m) has spots on his face that form his very own mustache. This brother/sister pair were found as strays when they were 9 days old and were brought to NMHRS where they were bottle fed. They are sweet rabbits who like to romp and play. They love to chew pine cones.

Trixie and Detox must be adopted together and never separated. Adopting a bonded pair saves you the stress and work of bonding your rabbit later. Bonded rabbits are happier, healthier, and live longer.

Interested in these all stars? Fill out our adoption form: bit.ly/NMHRSadoptionapp
Young, Male, Medium
To find out more, please call 505-435-9916 or email Kirstin@newmexicohrs.org.
Note: House Rabbit Society does not take in rabbits directly from the public. We only take in rabbits from shelters. For information about finding a home for your rabbit, please visit here